7 out of 10 Generation Z and Millennial shoppers declare they prefer to be informed before making a purchase;

"Buy less, but good" is one of the shopping tips half of 25-39 year olds received from their parents;

Millennials are more likely to go through all stages of the buying process than Generation Z, who seems more determined.
Starcom Romania launches the Purchase Journey – Gen Z vs. Millennials study, which takes an in-depth look at each stage of the purchasing process of Generation Z and Millennials, as well as other aspects that contribute to the decision-making process, such as the advice they receive from their parents on buying various products or the important criteria they take into account in this process.
Shopping behaviour
According to the new study, 7 out of 10 Generation Z and Millennial shoppers declare they prefer to be informed before purchasing. In addition, the study shows that their previous positive experience with a store or brand contributes to a new purchase on the next shopping occasion.
While for Millennials, shopping is in greater extant an activity based on rational decisions – they are accustomed to saving the amount of money needed to purchase a product in advance and prefer to wait longer for the desired product, people from Generation Z are more spontaneous when it comes to purchases, they like shopping quickly and have as simple / hassle-free experience as possible. Also, compared to Millennials, Gen Zs associate shopping more with a family activity, most often accessing the family budget to purchase goods or services.
Shopping tips from parents
When it comes to shopping advice from parents from an early age, regardless of generation, product quality and prices come first when parents are teaching their children how to shop. "Buy less, but good" is one of the shopping tips that half of Millennials were raised with.
According to the survey conducted by Starcom Romania, we observe that none of the younger generations perceive that a higher price can justify a better quality. Moreover, for them, the price should be placed in a value framework associated with differentiating benefits in order to be accepted.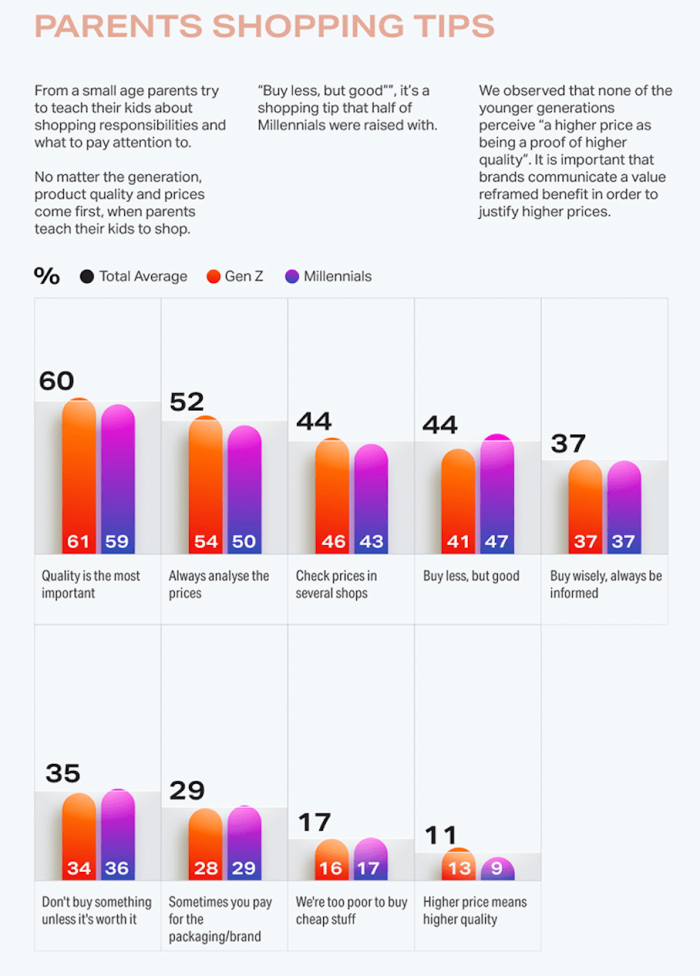 Main steps of the purchasing process
Regarding the buying process, it appears that compared to Gen Z, Millennials are more aware of the stages of the buying process they go through when making a purchase. Gen Z may appear to be more assertive shoppers at this point in time, most likely because they form their brand preferences at younger ages, being exposed to a large amount of commercial information from childhood.
However, there are other reasons why young people from Generation Z don't always go through all the stages of acquisition. These include:
– setting a budget (as most likely some purchases are still made by, or with the help of, their parents)
– shorten list according to the budget is not as much of a burden as it is for Millennials, who only buy products they need or don't have;
– information-comparison of products and prices (Gen Z people make more spontaneous purchasing decisions than Millennials);
– product testing (they don't have the same patience and don't feel the same pressure to make the right choice as Millennials; in addition, their attachment to products is lower because they are always looking for the next new product);
– some of them are not the final decision-makers.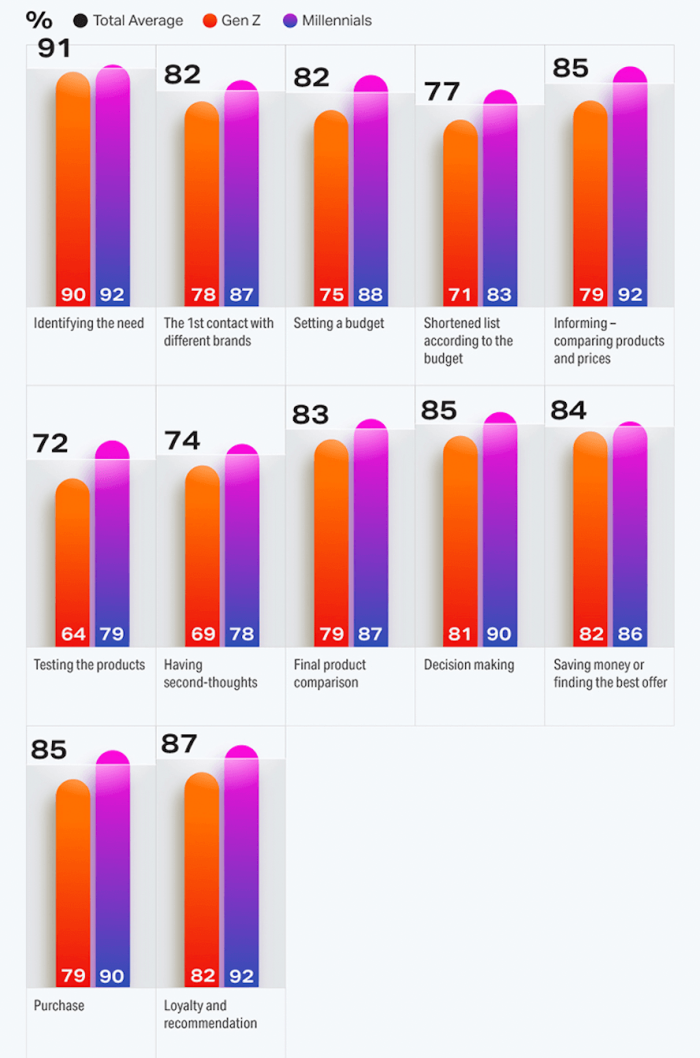 The buying process for low purchase value categories
According to the Purchase Journey study, for low purchase value categories, budgeting is the second most important stage in the consumer journey for Generation Z, just after identifying the need. In addition, the aspects that contribute to the final purchase decision after they settle on a budget are: the immediate need for the product (27%), viewing/testing the product (24%), and flexible payment methods (24%). A driver of loyalty and subsequent recommendations is checking their satisfaction with the product after purchase, with Gen Z valuing brands they care about.
On the other hand, Millennials seem to be more budget-conscious when shopping (88%), even though they are more financially stable and independent. Aspects that contribute to the final purchase decision, once they feel comfortable with their budget, are: a price they can afford without being a burden (46%), quality products (39%), product appearance/packaging (27%), and consistent special offers (26%). In order to boost loyalty, brands need to de-stress the purchase process, offering them assurance that they make the right choice, simplifying the next purchase decision.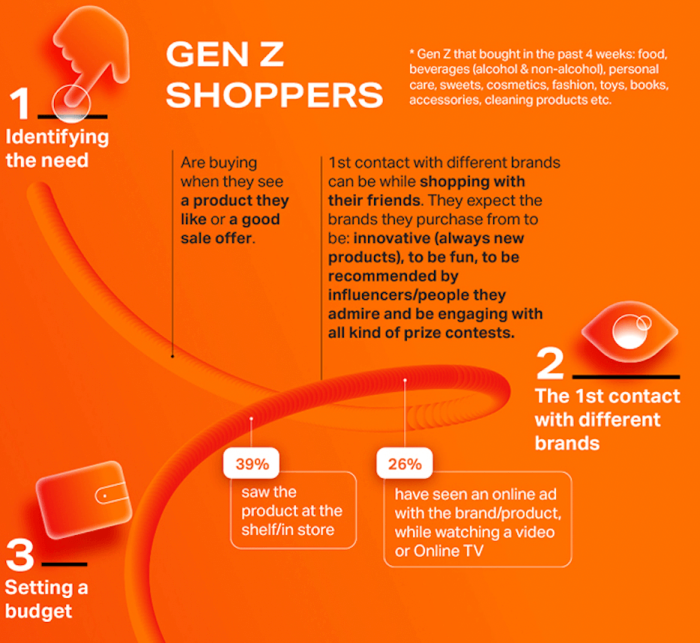 The buying process for high purchase value categories involving a higher financial investment
The main barrier for 41% of Generation Z is that products in these categories are too expensive for their budget. For this reason, if they find out about a considerable discount or a special offer, they choose to buy the product even though they don't urgently need it.
Aspects that contribute to the final purchase decision after budgeting are: high score of recommendation (29%), originality of the product (28%), quick and easy return policy (26%), the flexibility of payment (24%), reputation/popularity of the brand (24%) and being recommended by influencers/celebrities they admire (18%).
The positive emotions triggered by using the product lead Gen Z to share the excitement with friends, increasing referrals and influencing the purchase decision of others.
For this category of high-value goods, 26% of Millennials will not purchase a product unless there is a significant price reduction. Also among the aspects that contribute to the final purchase decision are: quality (38%); being able to see/test it (28%); being recommended by experts (27%); brand involvement in causes they believe in (CSR, sustainability – 19%); the relationship they build with the brand (17%). What will make them choose the brand again and talk about it with their friends/family is the excitement provided by the whole experience of the purchase process.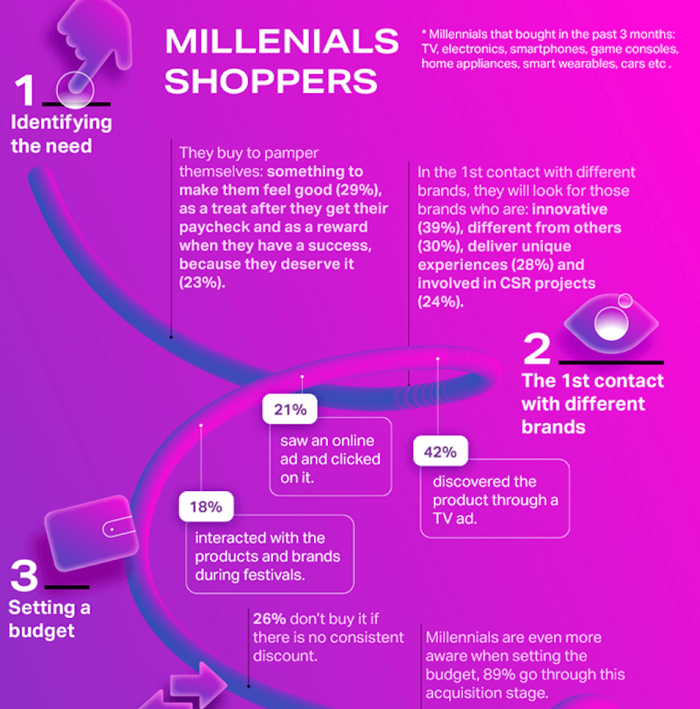 You can download the entire study from below
View File
All Publicis Groupe Romania proprietary data tools in one place.
Discover the power of our tools and feel free to get in touch.