Starcom Romania launches the 9th edition of the Consumer Report data compendium. It focuses on the behavior of Romanians in terms of online and offline content consumption, electronic devices used, reading preferences, purchasing behavior, etc.
The study considered four main consumer segments:
Adolescents - young people aged between 14 and 17, mostly students;
Unmarried young people - aged between 18 and 34, without children;
Families with children – families with children up to 14 years old, most family members aged between 18-45 years;
Families without children in their care – most of the family members are over 45 years old and do not have children under 14 years of age in their care.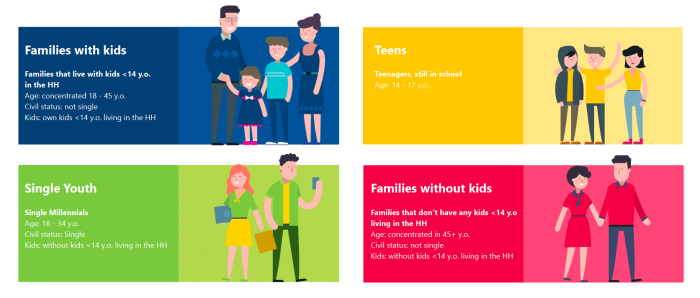 The most important aspects from the 2022 edition of Consumer Report
TV consumption
Online TV services gained more ground this year, especially among young singles (60%) and families with children (44%). Classic and Smart TVs continue to be used to the same extent, but interest in Home Cinema devices has decreased compared to the previous year (especially among teenagers).
Online content consumption
Younger generations continue to spend the most time on the Internet, and among the electronic devices owned in the household, laptops remain the most popular. Young generations and families with children are their primary users, using them for work, school, and other recurring activities. Smartphones are increasingly used by all consumer segments, being the preferred device for surfing the Internet (over 90% in the case of teenagers, young people, and families with children).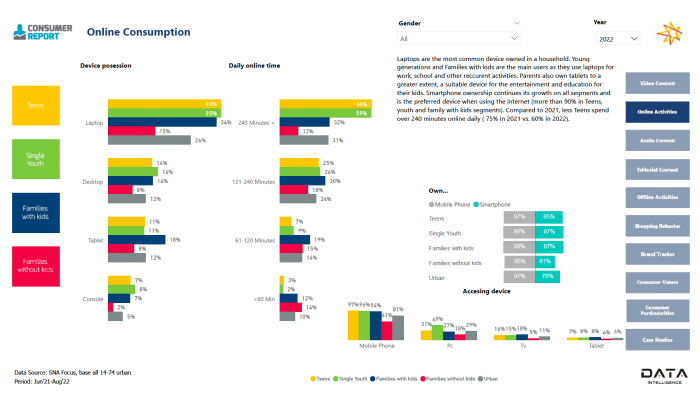 Frequency of mobile phone use
Socializing/instant messaging continues to be the main reason people use mobile phones. Teenagers use phones more for entertainment purposes, while young singles use e-mail and browsing applications more.
The social networks preferred by Romanians
Facebook, Whatsapp, and Instagram dominate the list of social media preferences. However, TikTok continues to gain significant ground, surpassing Instagram in rural areas. Compared to 2021, Telegram has made an important jump in the rankings, becoming more and more preferred for instant messaging, especially among young singles.
Offline & online audio content consumption
Online audio content remains preferred by younger generations, but on a downward trend compared to 2021. Radio remains the main type of offline content, which most Romanians listen to at home (mainly families without children) and in the car (families with children).
Radio programs & frequency of listening to them
As we have observed over the years, younger generations are less interested in radio programs compared to older generations, and radio consumption is higher in rural areas compared to urban areas. The most popular radio programs continue to be music and news, with an increase in programs with a health focus.

Editorial content: offline versus online
Families with or without children are the segments that prefer offline editorial content the most, with their interest in online decreasing compared to 2021. On the other hand, younger generations consume more of both types of content. Consumers, especially families without children, continue to prefer short editorial content (<30 min/day).
Shopping behavior
In 2022, a decline in brand loyalty can be seen, especially in the purchasing behavior of teenagers. Families with children plan their purchases and look for advice when they go to the stores. For both types of families, with or without children, price is very important, while young singles tend to spend more on services that make their lives easier. For young singles, friends and expert recommendations are an important trigger when choosing which products to buy. Unlike in 2021, product features were the most important decision criteria, followed by brand and price. In addition, in 2022, Romanians still preferred shopping directly from stores, probably due to the specific benefits that this environment offers. Online shopping decreased slightly compared to the previous year, less in the case of families with children, where a slight increase was recorded. People continue to do their weekly shopping in neighborhood stores and supermarkets because of the convenience and proximity.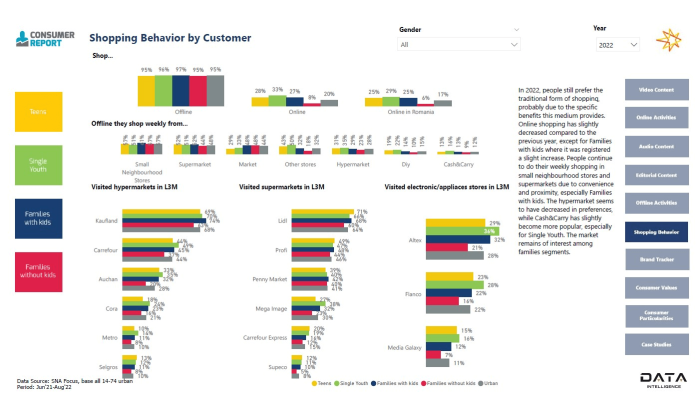 Ecommerce
Clothing/shoes remains the most popular product category purchased online in 2022, followed by cosmetics/personal care products, especially for young singles and families with children. Teens seem to have reduced their spending on cosmetics this year, but have maintained an interest in sports gear.
Technological trends
Looking to the future, smart accessories remain the most used technologies in 2022, to a greater extent by families with children. At the same time, unmarried young people mainly used technologies such as: 5G, smart appliances, robots and AR this year. Technologies such as data privacy and green energy are at the center of attention for mature segments (families).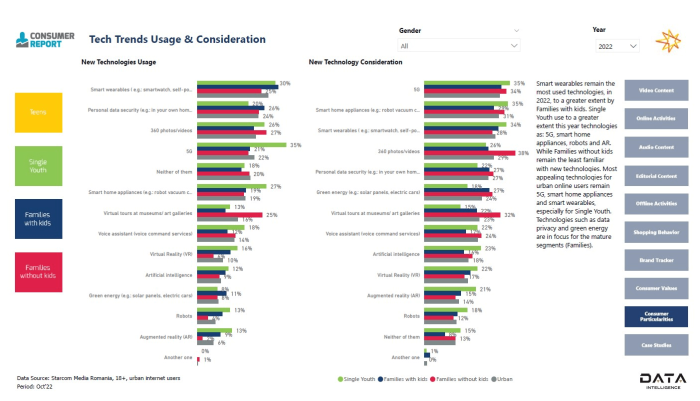 You can download the entire study from below
View File
All Publicis Groupe Romania proprietary data tools in one place.
Discover the power of our tools and feel free to get in touch.