Most expenses incurred during Black Friday are between 500 and 2000 RON (40%).

Payments made from current salary and overdrafts are more common in 2021 than in previous years.

Clothing and accessories remain the favourite products of Romanians on Black Friday; 4 out of 10 internet users bought Black Friday 2021 clothing and accessories.
According to Starcom's 7th edition of the Black Friday study, Romanians in urban areas spent less on gifts and focused more on their personal needs. A possible explanation for this could be the uncertainty in which Romanians live due to the pandemic context, as they choose to take more care of their budget. Romanian consumers are more careful when it comes to spending, assessing the importance of each purchase, as well as the discounts offered by retailers during this period. Regarding the total budget for Black Friday this year, Romanian urban internet users spent less than they had planned. Thus, only 46% of them spent the entire budget planned for Black Friday. Most expenses during Black Friday are between 500 and 2000 RON (40%), and most Romanians continue to pay for Black Friday from savings. At the same time, payments made from current salary and overdrafts are more common in 2021 than in previous years.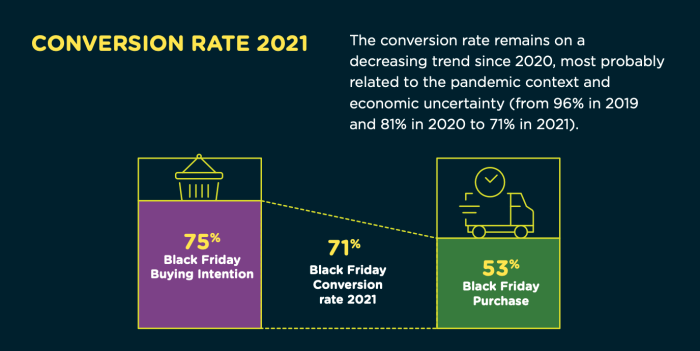 Black Friday consumer behaviour
This year, most urban internet users prepared their Black Friday shopping list 3-4 weeks before the actual campaign. Spontaneous decisions (1-2 days before the actual event) faded as Romanians became more aware of budget and spending and watched the evolution of product prices. In addition, it was observed that the type of investment influenced the buying process of consumers during this period. A good example of this is the case of televisions and electronics, 1 in 2 Romanians started to look for the products they wanted to buy on Black Friday even a month before the campaign.
Sources of information
Retailers' websites were the main sources of information during the Black Friday campaign, with a significant increase this year. In terms of social networks, they are on a downward trend compared to previous years, the most visible decrease being among the posts on Facebook (-8% compared to 2020). According to the new data, Romanians sought reliable and reliable information, such as recommending friends, family or colleagues.
Procurement methods
Regarding the preferred method of purchase, we notice that, for the fashion and beauty categories, there are more people who prefer shopping in the store because there they can try the products and receive a recommendation from the sellers. Categories such as electronics and home appliances are more likely to be purchased online, even if they represent a more significant investment. Among the advantages of online purchases that Romanians consider, the most important are the additional discounts and reviews from other consumers.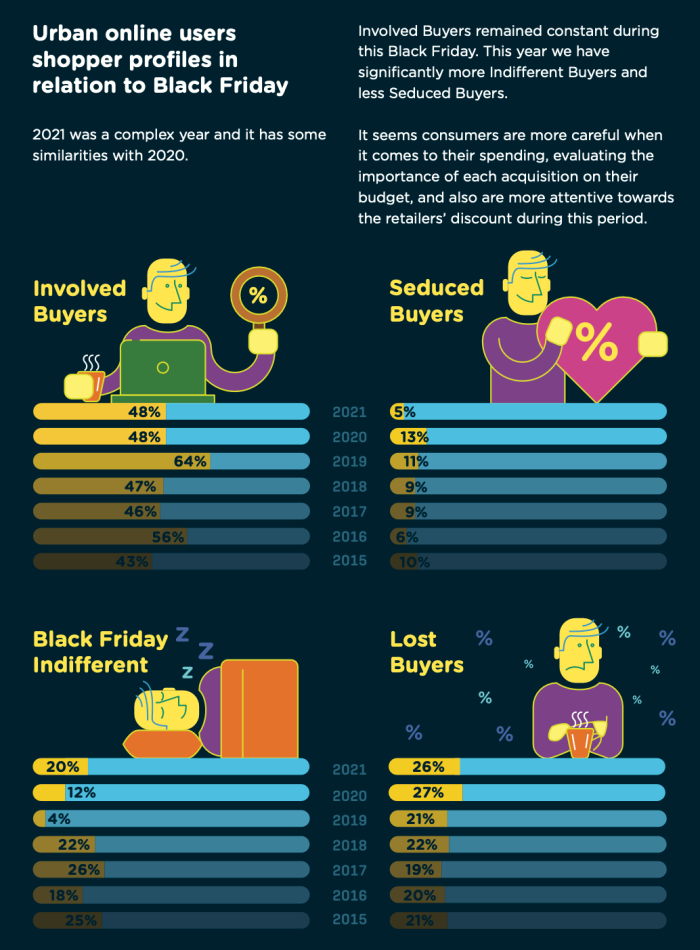 The most purchased products
This year's favourite products of Romanians on Black Friday also include clothing, body care products, perfumes, smartphones and electronic accessories (e.g. headphones, monitors), smart TVs and audio systems, as well as household appliances. In terms of clothing, the purchasing behaviour remained similar to last year: boots, sweaters and sweatshirts, jeans and pants were the main items of clothing bought by Black Friday this year, but with a slight decrease compared to last year. At the same time, Romanians paid more attention to body care products, but also to perfumes. A decrease compared to 2021 is observed in the case of smartphones, with internet users in urban areas buying less than they initially intended. This year, the focus has been on electronic accessories, one possible explanation being that people have started to put their and their family's health first and want to monitor it with smartwatches or other devices. They also most likely needed more devices for online schooling or working from home. Smart TVs were also the favourite products in the electronics category this year, while the microwave, upright vacuum cleaner and iron were the main appliances bought by Black Friday 2021.
Motivation
The need for products that people do not currently have, but the need remains the main reason they do Black Friday shopping. Also, Romanians bought products that they like, without a special reason, as well as products that they intend to give as a gift (Christmas and birthdays), but to a lesser extent than in 2020. In 2021 there is a significantly higher conversion rate in the purchase of products promoted by public figures (bloggers/vloggers), 35% of whom are experts in various sectors (IT, media, health). In addition, when it comes to online orders, the purchase was triggered mainly by the comments and recommendations of other consumers, along with delivery and return services, which come as a plus in addition to the discounts and lower prices of Black Friday.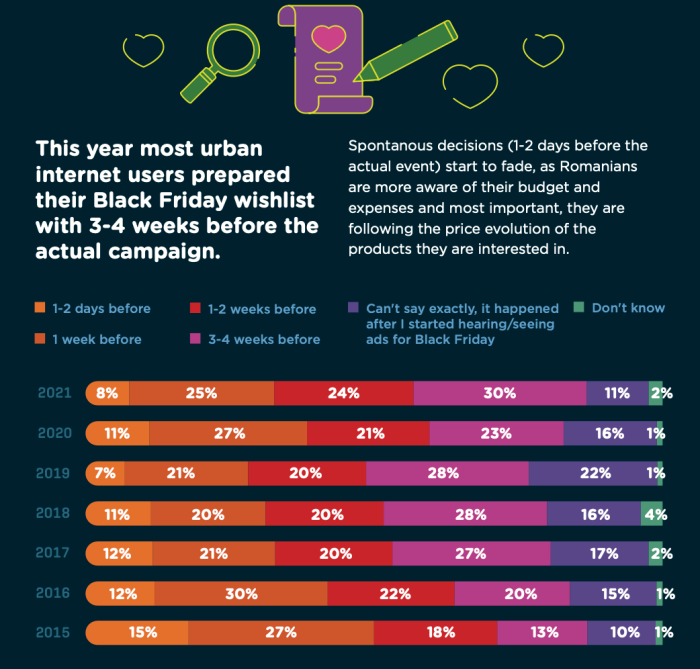 Expectations and emotions
In terms of satisfaction score, 6 out of 10 urban internet users said they were happy with this year's Black Friday campaign. In the face of a new year of uncertainty, it seems that consumer expectations are becoming increasingly difficult to meet. On the other hand, given the adaptation to the pandemic context, we notice that the positive emotions during Black Friday 2021 increased significantly compared to 2020. Thus, most internet users in the urban environment said they were relaxed, having everything under control and being well informed. The interest for the next edition of Black Friday is higher than in 2020, but it remains at a significantly smaller difference compared to 2019, with 66% of the respondents declaring themselves interested and very interested in the Black Friday 2022 edition.
Future shopping
After Black Friday, Romanians are starting to prepare their shopping list for the next important event: the winter holidays. Compared to 2020, when people focused on subsistence categories (food, sweets, drinks), this year, Romanians want to pamper themselves with something special: a perfume, an appliance they need, a jewel/accessory, or a much-desired holiday.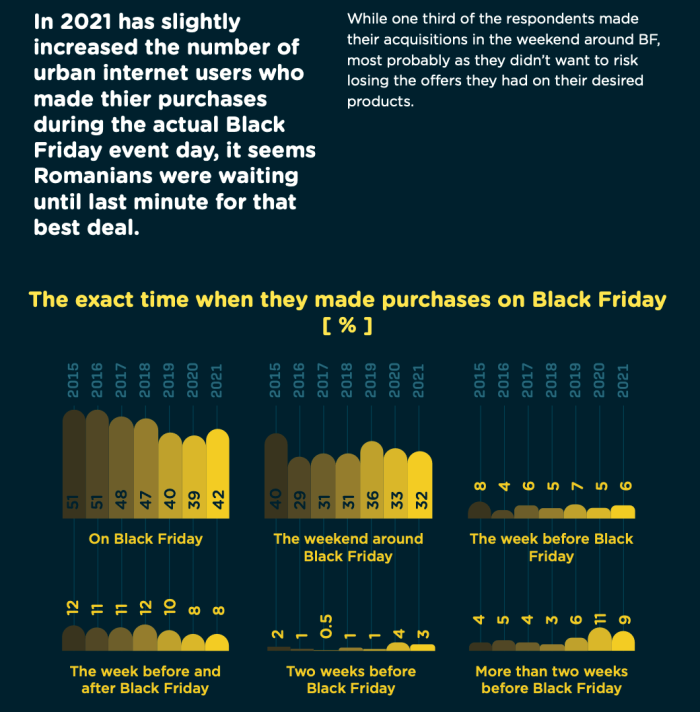 You can download the entire study from below
All Publicis Groupe Romania proprietary data tools in one place.
Discover the power of our tools and feel free to get in touch.